Hurom HB (HU-200) - slow-running juicer - burgundy, HB-EBE08
The human body needs a fresh portion of vitamins and minerals every day. Juices obtained from fruit and vegetables allow to provide them in a natural and easily assimilable way. That is why a slow-running juicer has been created
Designed for you
The world's first
The world's first slow-running juicer has been developed and patented by Hurom ("Vertical Cold Press Juicers")
Quiet and easy to clean
The quiet motor allows you to start your morning without causing a fuss, and cleaning only takes a few minutes.
Safe juice squeezing
Hurom juice squeezers are 100% BPA-free and have no blades or sharp parts, making them safe for your whole family.
Delicious, unprocessed juice
.
Slow-speed juicing allows you to extract more juice that retains its flavour and nutritional value for up to 72 hours.
More nutrients, minimal oxidation
Natural auger shaft movement minimises degradation of valuable nutrients, ensuring that the natural flavour and nutritional value of the juice is retained.
With a view to health
Every day, the human body needs a fresh supply of vitamins and minerals. Juices made from fruits and vegetables make it possible to provide them in a natural and easily assimilable. It is for this purpose that the Huromm hurom HB has been created for this purpose, combining advanced technology with technology with a beautiful design and most importantly allows you to prepare juices and mousses filled with valuable nutrients. Pressing a variety of juices every day is a great idea to replacing traditional snacks between meals or even whole meals. Healthy fruit and vegetables will naturally enrich our diet our diet with valuable microelements.
---
Innovative technology
The Hurom HB hand juicer uses all the innovative technologies that are characteristic for the line of the company's slow-running appliances. The most important of these is sST (Slow Squeezing Technology) system, which introduces a new quality in the technology of juice extraction. In traditional juicers, juice is produced in the process of grinding - the beverage is then strongly heated and then the beverage is strongly heated and aerated, which causes it to lose its valuable nutrients. W hurom juicers use a system of crushing and crushing of fruits and vegetables is carried out at low temperature temperature. Juice produced in this way has a composition of vitamins and enzymes content very close to that of the unprocessed product unprocessed product.
---
Beautiful design and high performance
Hurom HB is one of the smallest devices from this manufacturer. Thanks to the handy form and slim line the product is distinguished by both practical and aesthetics. Hurom perfectly combines attractive design with useful technology. The juicer is equipped with many valuable features the design ensures quiet operation - the noise generated by the device is generated by the device is only 30 dB. It is also worth also worth noting the ecological aspect - Hurom HB consumes during the operation only 150 W, which makes this juicer extremely energy efficient.
---
Simple cleaning and easy transport
Cleaning the juicer after after use it is very easy to clean and does not even require dismantling it. Just pour clean water inside and turn on and turn on the device, and the silicone wiper inside the silicone wiper inside will thoroughly clean the screen from all dirt. Thoroughly cleaning the juicer is easy to clean too - its construction is simple and assembly is intuitive. The handle is covered with a non-slip handle covered with an anti-slip layer, thanks to which transport the handle is covered with an anti-slip layer on the back, which makes transporting the device completely comfortable. Located at the mouth of the funnel the special non-drip valve at the mouth of the funnel makes the even when it is running or filled with juice.
---
Colours
The Hurom HB is available in three colour variants - black, silver and burgundy burgundy. This selection of colors allows you to conveniently match the juicer to the style of the interior and the needs of the user. Carefully carefully refined and unique design of the HB model ensures that it it will find its place both in modern and traditional arrangement.
Components - contents of the box
Main body
Batching chamber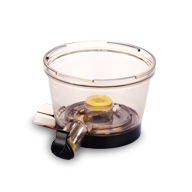 Bowl
Worm shaft
Rotating brush
Strainer for clear juices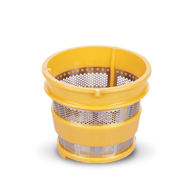 Thick juice strainer
Juice container
Pulp container
Cleaning brushes
Pusher
User manual
Recipe book
RPM of the sqeezing screw
Juice density control lever
HUROM - only original products.
Buy only original products from the Polish distribution of Hurom.
Produced under the HUROM warranty.
Premium quality - made in South Korea.
Make sure you have the highest quality.
Register your Hurom squeezer to receive a 10 year parts warranty.
---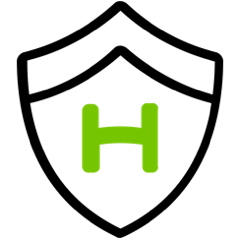 Our Slow juicers are covered by a 10-year manufacturer's warranty*.
*2 years manufacturer's warranty, plus an additional 8 years warranty if you register your product.