Hurom HQ 2G Slow Juicer - Silver, HQ-DBE13
The Hurom HQ 2G juicer is a simple and classic second generation model. The Classic Series, from which this model comes, is a collection of slow-running juicers that customers have come to love for their looks, performance and efficiency in creating delic
Designed for you
The world's first
The world's first slow-running juicer has been developed and patented by Hurom ("Vertical Cold Press Juicers")
Quiet and easy to clean
The quiet motor allows you to start your morning without causing a fuss, and cleaning only takes a few minutes.
Safe juice squeezing
Hurom juice squeezers are 100% BPA-free and have no blades or sharp parts, making them safe for your whole family.
Delicious, unprocessed juice
.
Slow-speed juicing allows you to extract more juice that retains its flavour and nutritional value for up to 72 hours.
More nutrients, minimal oxidation
Natural auger shaft movement minimises degradation of valuable nutrients, ensuring that the natural flavour and nutritional value of the juice is retained.
HUROM HQ 2G Free Rotary Press in colour grey
Discover the HUROM HQ 2G Slow Juicer Hurom HQ 2G and give yourself and your loved ones a dose of health in glass of juice every day. Hurom HQ 2G is an economical and compact model having all the advantages of 2nd generation juicers. The company Hurom is constantly improving its machines in order to minimize loss of nutritional value due to exposure to heat and oxidation, preserve the freshness of ingredients and help people discover the rich flavours of nature. The patented Slow Squeeze Technology ( SST ) is one of the results of years of research and testing carried out by Hurom.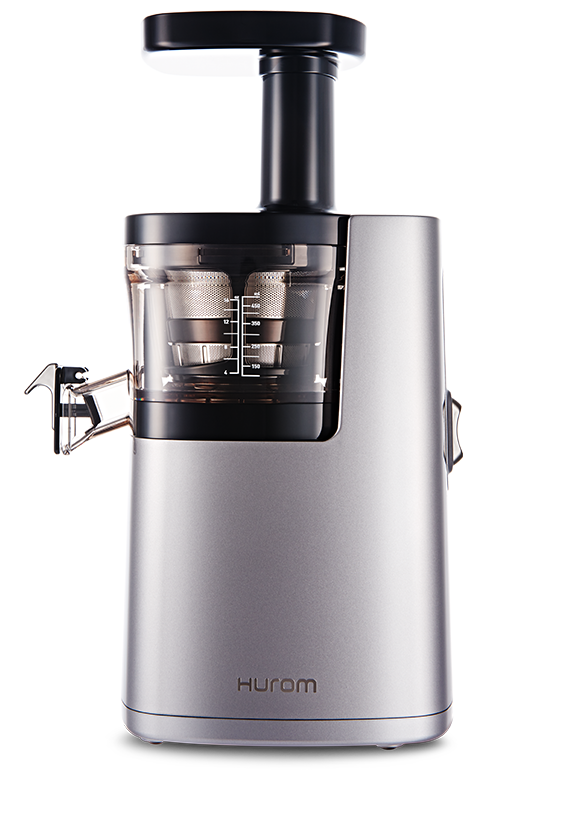 CLASSICS, SIMPLICITY AND FUNCTIONALITY IN A COMPACT
The Hurom HQ 2G 2nd generation juicer is a model with a simple, classic and nice design that will perfectly fit into any kitchen. Thanks to its compact size and slim design it perfectly will fit perfectly even in a small interior. Hurom HQ 2G will be ideal for someone who is just beginning his adventure with juicing juices.
500 ML JUICE BOWL EQUIPPED WITH A CAP "NON-CAPPING" STOPPER
500 ml juice bowl allows you to prepare 2 glasses of of fresh juice. The practical drip stopper with silicone gasket keeps the juice in the bowl so you can forget about spilled juice or the practical drip stopper with silicone gasket keeps juice in the bowl so you can forget about spilled juice or unwanted dripping from the bowl outlet when you're done. The closed dripless cup allows for thorough mixing of all ingredients in the bowl. It also allows you to rinse the machine also allows you to rinse with water after use or between different juices. Simply close the drip tip, start the machine and then pour in approx. Just close the dripless cup, start the machine and then pour about 450 ml of clean water to rinse components of the juicer. In this way the juicer will be clean in seconds and the final cleaning is just a a formality.
PATENTED TECHNOLOGY SLOW SPEED JUICING ( SST )
Many years of in-depth research carried out by Years of in-depth research into how to get the best and most valuable juice, have led to the development of our Slow Speed extraction technology (SST). SST involves extracting juice fresh fruit and vegetables slowly under high pressure pressure. The advanced SST technology is a combination of squeezing, filtering and blending to produce the highest quality juice quality.
An innovatively designed auger shaft that squeezes to the last drop.
The technologically advanced screen will allow you to squeeze even more nutritious juice while maintaining clarity.
The brushes rotating together with the auger will allow for the auger and the rotating brushes allow for perfect mixing of the ingredients while the sieve.
Premium guarantee
Quiet, and even more powerful at heart - this is the definition of a powerful, motor used in the Hurom HQ 2G juicer, covered by a 10-year warranty.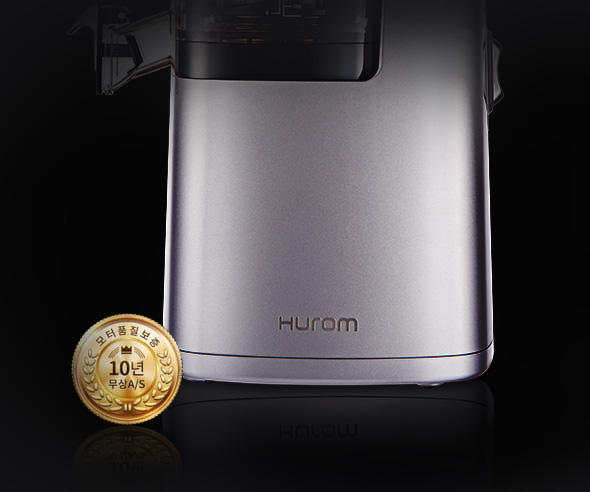 HUROM HQ 2G JUICER - FUNCTIONALITY AND EASE OF USE
SIMPLE AND CLASSIC DESIGN
The Hurom HQ 2G model is compact in size, slim, compact and will take up little space on your countertop.
TWO-BLADE AUGER SHAFT
Upgraded double-blade auger shaft, made made of very strong and durable ULTEM.
LOWER WORM SHAFT SPEED 43 RPM
Many years of testing and research carried out by Hurom have made it possible to reduce the speed of the rotating shaft from 80 rpm to 43 prm.
NON-CAP STOPPER
Thanks to this the juice flowing out of the bowl opening will not splash all sides. Pour as much juice as you want, close and drink drink.
500 ML BOWL
Large capacity bowl allows you to squeeze up to two glasses of juice at a time.
THE JUICER IS MADE OF BPA FREE MATERIALS ( BPA FREE)
The components of the juicer are made of BPA free materials BPA FREE.
THE SET INCLUDES: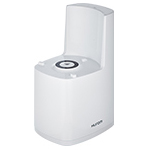 Main body
Batching chamber
Bowl
Worm shaft
Rotating brush
Strainer for clear juices
Juice container
Pulp container
Cleaning brushes
Pusher
User manual
Recipe book
Looking for equipment to produce healthy and fresh you may also be interested insqueezer for citrus. Find out more and read our article about all its benefits!
Protection against incorrect installation
Motor overload protection
Unique features of the engine
Brushless Induction Motor (BLDC)
Extremely quiet around 50 bB
Very low electricity consumption
10-year manufacturer's warranty on the engine
Screw shaft made of durable and safe ULTEM (BPA free)
Squeezing bowl made of Tritan (BPA Free)
Components in contact with juice free from bisphenols (BPA free)
RPM of the sqeezing screw
Juice density control lever
HUROM - only original products.
Buy only original products from the Polish distribution of Hurom.
Produced under the HUROM warranty.
Premium quality - made in South Korea.
Make sure you have the highest quality.
Register your Hurom squeezer to receive a 10 year parts warranty.
---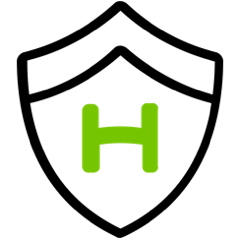 Our Slow juicers are covered by a 10-year manufacturer's warranty*.
*2 years manufacturer's warranty, plus an additional 8 years warranty if you register your product.