Hurom HZS Alpha Plus
( number of products:

1

)
Wyciskarka Hurom HZS Alpha Plus to produkt, zajmujący szczególne miejsce w naszej ofercie. Należy ona bowiem do unikalnej serii premium. Klienci sklepu Hurom.pl wybierają ją nie tylko ze względu na atrakcyjny design, ale również skuteczność i wielofunkcyjność. Wyciskarka do owoców Hurom HZS Alpha Plus z pewnością wyróżnia się na tle innych wyciskarek, dostępnych na rynku. Dzięki niej zaserwujesz sobie i swojej rodzinie codzienną, zdrową dawkę witamin i wartości odżywczych. Możesz przygotować w pełni naturalne soki, nieskażone szkodliwymi konserwantami, sztucznymi składnikami lub dużą ilością cukru. Wyciskarka Hurom HZS Alpha Plus z pewnością spełni wszystkie Twoje potrzeby. Dodatkowo zastosowanie w niej nowoczesnych technologii pozwala na ogromną oszczędność czasu. Zdrowy sok owocowy lub warzywny otrzymasz w mgnieniu oka, bez specjalnego, wcześniejszego przygotowania owoców.
Wyciskarka do owoców Hurom HZS Alpha Plus – najlepszy wybór
Nasza wyciskarka do cytrusów marki Hurom oferuje innowacyjną technologię wolnoobrotowego wyciskania. Dzięki temu otrzymasz prawdziwą esencję warzyw i owoców. Wyciskarka do owoców Hurom HZS Alpha Plus jest niezwykle praktyczna. Panel LED poinformuje Cię o stanie pracy urządzenia – pracy wyciskarki, procesie ekstrakcji oraz biegu wstecznym. Obsługa wyciskarki jest też bardzo intuicyjna i niemal dziecinnie prosta. Wyciskarka Hurom HZS Alpha Plus posiada też specjalny znak bezpieczeństwa – HiddenTag – dzięki czemu możesz mieć pewność, że produkt przeszedł wszystkie możliwe testy bezpieczeństwa. Poznaj urządzenie Hurom HZS Alpha Plus i doceń jej starannie wykonane elementy – szczelną misę zintegrowaną z wałem napędowym, mocną, wyjmowaną zębatkę, ułatwiającą czyszczenie i wiele więcej. Dodatkowo sokowirówka wolnoobrotowa Hurom wykonana została z niezwykle wytrzymałego i świetnie wyglądającego materiału – srebrnej, szczotkowanej stali nierdzewnej. Możesz mieć pewność, że produkt ten będzie niezmiennie zachwycał przez kilka, a nawet kilkadziesiąt lat. Producent zapewnia klientom gwarancję 10 lat bezawaryjnego i niezakłóconego działania urządzenia. Wyciskarka do warzyw i owoców to wielofunkcyjne narzędzie, które pomoże nam utrzymać zdrową pełną witamin dietę!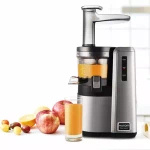 On special offer
Our bestseller
1 290,00 zł

incl. VAT

/

1

szt.
Lowest price in 30 days before discount
1 489,00 zł
/
1
szt.
Regular price
1 889,00 zł
incl. VAT
/
1
szt.