Hurom M100 2in1 - Slow juicer and Blender
New appliance
HUROM 2IN1 'M100'
Kitchen Innovation Award 2022
"Best of the Best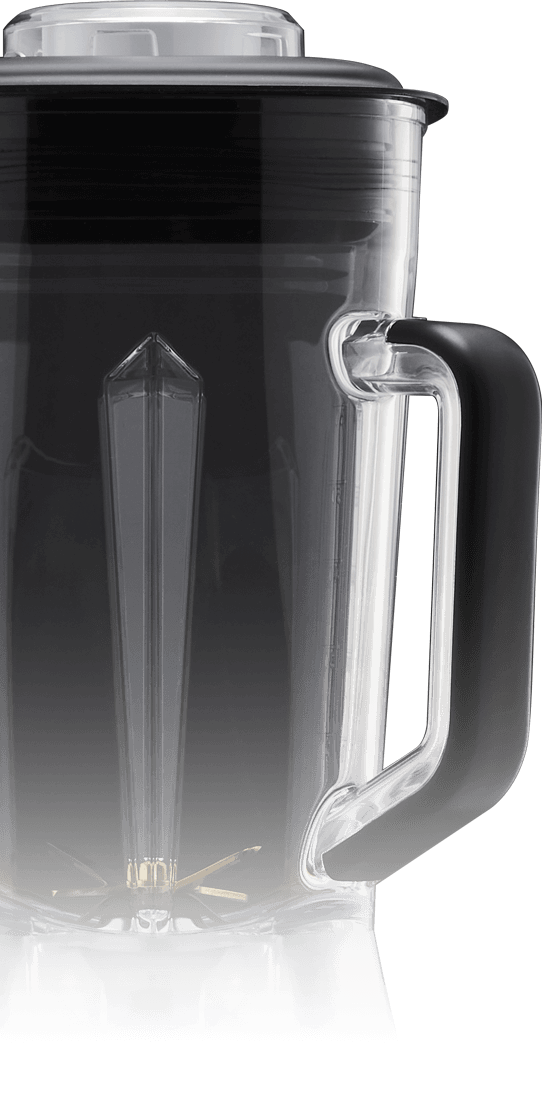 TWO TECHNOLOGIES
IN A SINGLE BODY
M100
2IN1. M100
JUICE AND
COOKING IN ONE!
Extract or blend, whenever you want. A new concept of kitchen appliance that combines Slow Juicer with a high-speed blender. HUROM M100 capable of everything from juicing to cooking
2IN1. M100
TWO TECHNOLOGIES
IN A SINGLE BODY
Slow Squeezing and high-speed blending are controlled in a single body. Don't hesitate to choose, just use M100
The more complex it is, the simpler it is.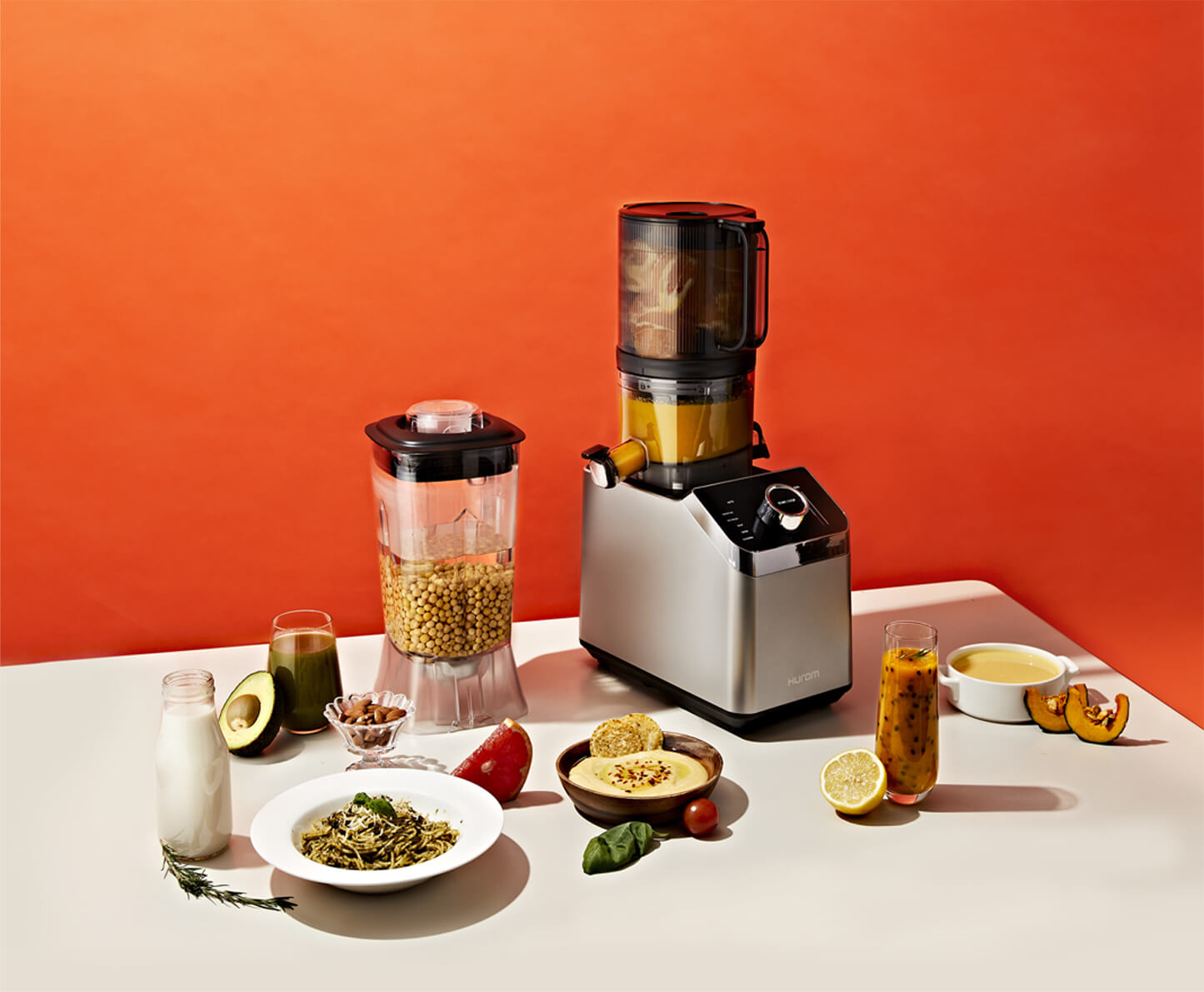 Dual Motor
THE SECRET KEY
OF INNOVATION IS

THE MOTOR

A combination of an AC motor of Slow Squeezing Technology (SST), which helps extract juice slowly but powerfully, and a universal motor thatrotates at high speed to crush and grind!

AC Dual Motor

A geared motor for Slow Squeezing and a high-speed universal motor are merged to offer a variety of features in a single body.
* Korean Patent No. 10-2350483
* Chinese Utility Model Patent ZL 2019 2 1299732.X
Slow Juicer Mode
"EXTRACT IN THE HEALTHIEST
WAY POSSIBLE!"
HUROM JUICE
A GLASS OF HUROM JUICE IS
ALL YOU NEED FOR THE DAILY

RECOMMENDED AMOUNT OF

CONSUMPTION.

400g: Daily recommended amount of fruits and vegetables, which is difficult to consume in the midst of a busy life(World Health Organization). But, with HUROM juice, you can easily consume large amounts of fruits and vegetables that are difficult to be consumed as raw. From the abundant nutrients in fruits and vegetables to those contained in seeds and flesh that are often simply thrown away, you can consume a variety of nutrients quickly and easily with a single glass of HUROM juice.

HUROM juice, the healthier way to drink.
Slow Squeezing Technology (SST)
SLOW SQUEEZING TECHNOLOGY
(SST) THAT SLOWLY SQUASHES BY

USING A POWERFUL FORCE

The "Slow Squeezing Technology (SST)" developed by HUROM is the key method that slowly squashes ingredients using a powerful force to extract only their extracts. It is a healthy and innovative technology that minimizes the loss of nutrients, which may occur invisibly during extraction, while maximizing the colors and flavors so that users may enjoy the taste and nutrients inherent in the ingredients.

* Loss of nutrients, generation of heat, oxidation and other changes may vary depending on the type and/or condition of fruits and vegetables.
MEGE HOPPER
INSERT THEM
ALL AT ONCE

WIDTHOUT

ANY PREPARATION

even a whole appleor large, leafy vegetables*! No need to prep the ingredients. Just insert whole, ingredients into the Mega Hopper that is 3 times larger than the one in the previous model* You can fill a voluminous, 2L mega hopper with fresh fruits and vegetables for extraction at once.

* May vary depending on the type of vegetables and fruit
* Hopper inlet size of H100: about 45 mm,
hopper inlet size of M100: about 139 mm
SMART JUICING SYSTEM
M100 THAT EXTRACTS
AND STOPS ON ITS OWN
Even when you insert whole ingredients, the smart M100 prepares, chops and extracts on its own. "Smart Juicing System" takes care of everything from prep to juicing! It automatically stops upon completion of extraction. (Auto Stop 5 minutes after extraction begins)
AUTOMATIC DETECTION MOTOR
AUTOMATIC
REVERSE

OPERATION

ALSO AVAILABLE!

The automatic detection motor is applied to automatically detect the pressure inside the chamber during Slow Juicer Mode and repeat normal and reverse operations to extract even the ingredients that are whole and unchopped in a stable manner.
Blender Mode
"BLENDING IN THE MOST
POWERFUL WAY POSSIBLE!"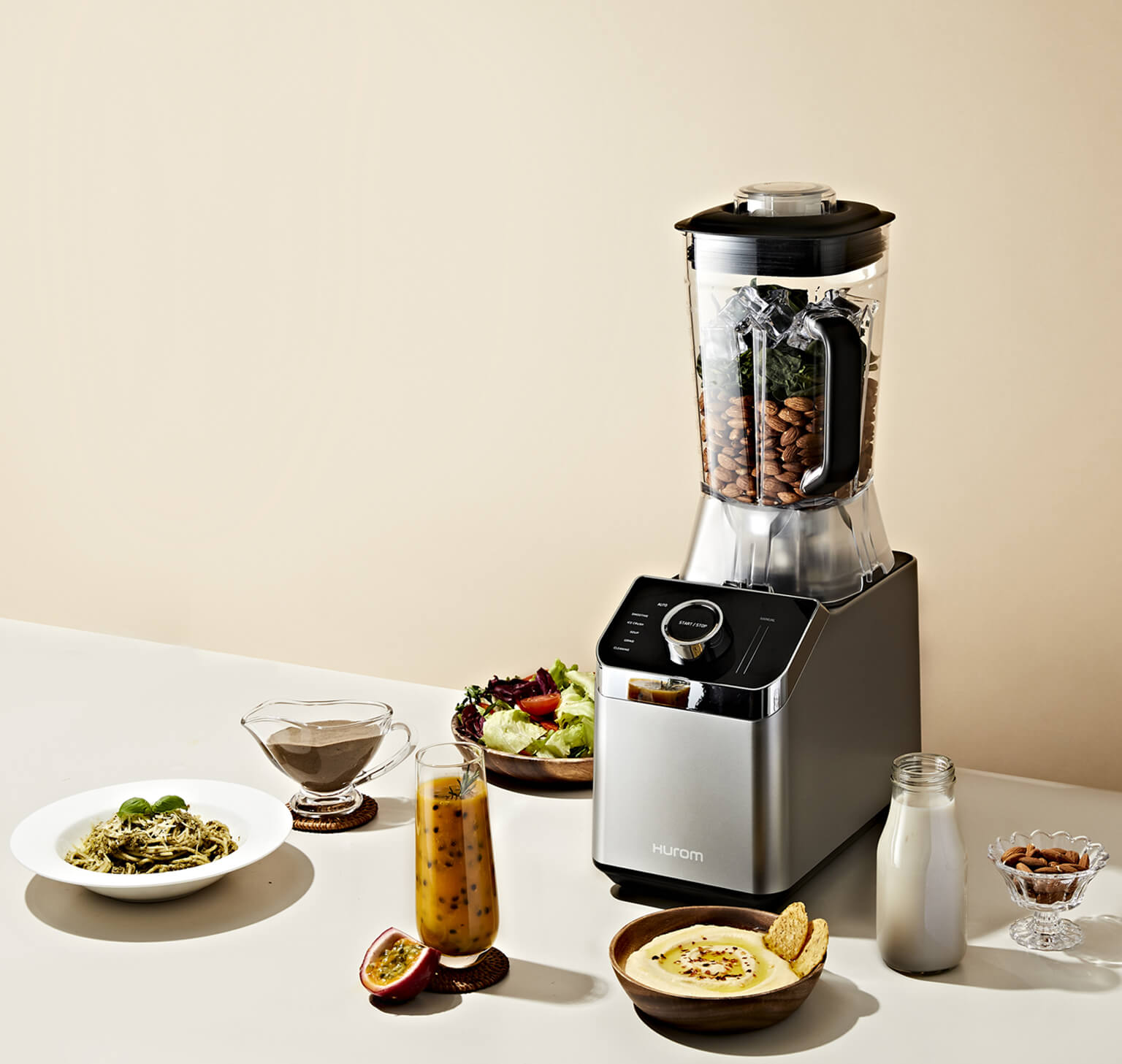 POWERFUL CRUSHING FORCE
POWERFUL BLENDING
MAKING ICE

INTO SNOWFLAKES

Even with frozen ice or lumpy ingredients, the six high-strength blades and a motor of max. 26,500rpm provide a powerful crushing force and excellent blending.
VARIOUS RECIPES
FROM DESSERTS
TO FULL DISHES!
From homemade ice cream and smoothie bowls for dieting to crushing of ingredients for warm soup and other dishes! Try a variety of recipes.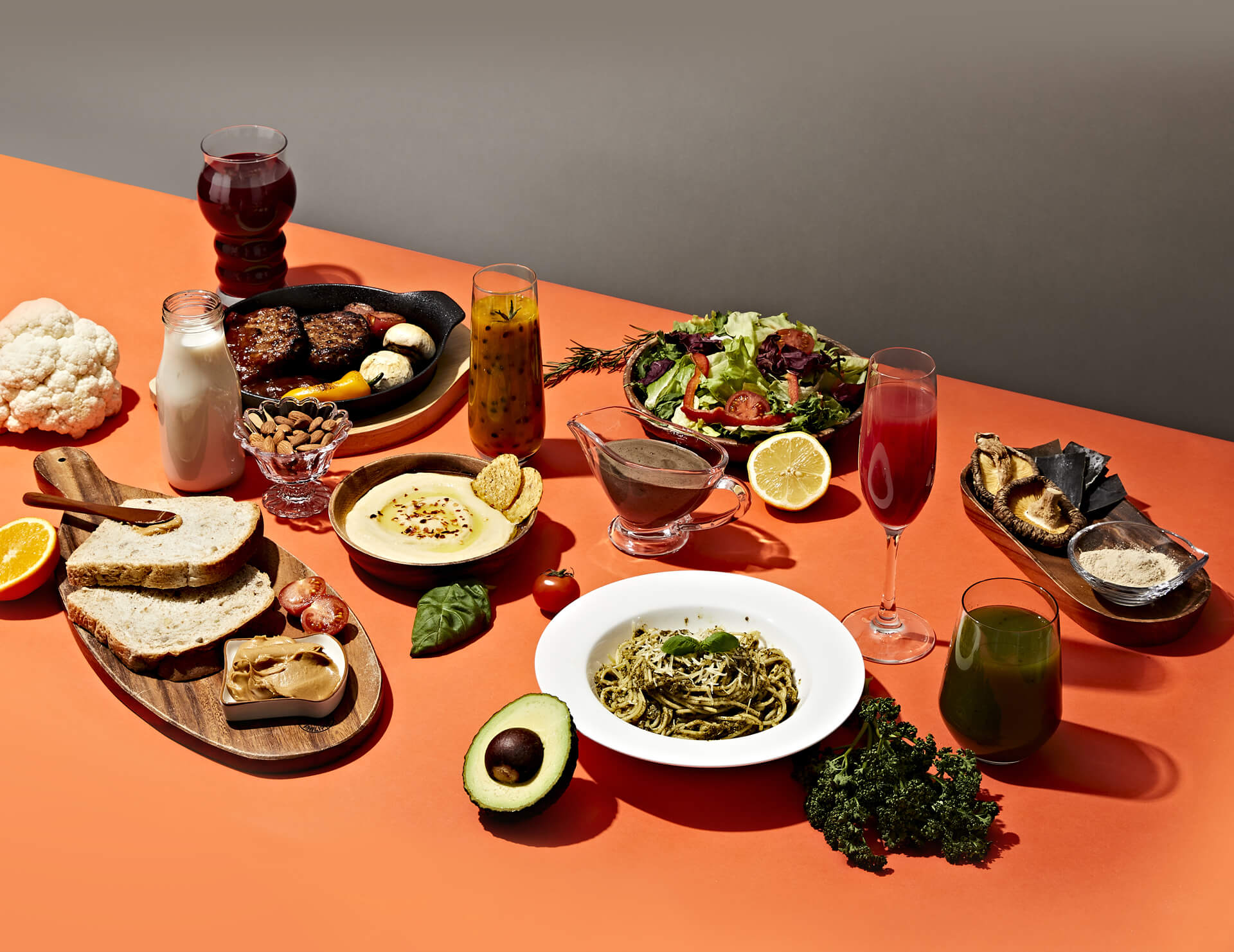 AUTO PROGRAM
AUTO PROGRAM FOR
EACH COOKING TYPE AND

MANUAL MODE

It provides 5 Auto Programs with different crushing styles such as Smoothie, Crush and Soup. With Manual Program, you can control the crushing force any way or style you like.
Functional Convenience
"SMART AND
CONVENIENT M100!"
AUTO CONTAINER DETECTION
SMART FUNCTION THAT
DETECTS CONTAINERS AUTOMATICALLY
The smart auto sensor, which automatically detects containers whether it be the Slow Juicer container or the crushing container, provides operations for each exclusive model that applies Smart UI.
SIMPLE ADDITON
CONVENIENT M100
Convenient M100 diverse functions
Simple assembly and connection with the body

Simplified parts allow for more convenient assembly. Regardless of containers, it has a structure that allows for stable settlement even when you simply place them on the body.

Easy Wash Type

It applies the user-oriented Easy Wash Type, which enables convenient disassembly and easy cleaning in running water.

Convenient automatic cleaning program

The Self Cleaning Mode also helps cleanse even the hard-to-reach areas in an easy and safe manner.

* This function is not available in the Slow Juicer Mode.
SMART UI
CONVENIENT WITH SMART UI
The symmetric exterior that helps control the dial from any direction in a stable manner and intuitively understand the status of operation Convenient UI that shows different modes, operation time and even output steps all at once Easily control the output steps and programs with the intuitive jog dial.

The convenience of it will enable you to cook a wider range of dishes.
DESIGN
FULL METAL STYLE THAT
ILLUMINATES THE KITCHEN
Shining and metallic body Slim front and stable depth
COMPONENTS
COMPONENTS
OF M100
Product Specification
Model
M100
Size
246x296x490mm (Juicer)
186x296x528mm (Blender)
RPM
43/50rpm (Juicer), 26,500rpm (Blender)
Power Consumption
200W (Juicer), 1,000W (Blender)
Standard Usage Time
30min (Juicer), 7.5min (Blender Auto Mode)
Voltage
250V 10A
Frequency
60Hz
Recommended