Hurom H310A Charcoal Slow Juicer
Sleek and lightweight with all the features you need
The Hurom H310A juicer is made for more than just juicing. Effortlessly prepare juices, smoothies, nut milks and even ice cream.
Designed for you
The world's first
The world's first slow-running juicer has been developed and patented by Hurom ("Vertical Cold Press Juicers")
Quiet and easy to clean
The quiet motor allows you to start your morning without causing a fuss, and cleaning only takes a few minutes.
Safe juice squeezing
Hurom juice squeezers are 100% BPA-free and have no blades or sharp parts, making them safe for your whole family.
Delicious, unprocessed juice
.
Slow-speed juicing allows you to extract more juice that retains its flavour and nutritional value for up to 72 hours.
More nutrients, minimal oxidation
Natural auger shaft movement minimises degradation of valuable nutrients, ensuring that the natural flavour and nutritional value of the juice is retained.
The new H310A slow-rotating extruder series
The new futuristic H310A slow juicer series.
Complete harmony in every space
Model H310A is characterized by an extremely slim design, modern design and innovative solutions.
Advanced technology
The innovative multi-screw design combines the function of the roller and filter into one simple combination
H310A Intelligent Slow Juicer.
The presented juicer automatically feeds and squeezes juice from all the ingredients you put in it. Thanks to the minimization of the number of parts in the juicer, cleaning the device is extremely easy! A great advantage of the H310A is the easy disassembly and assembly of parts
Even easier cleaning
Thanks to the minimization of the number of parts in the juicer, cleaning it is extremely easy! The big advantage of the H310A is the easy disassembly and assembly of parts
BPA-free.
The Hurom H310A freewheeling juicer is BPA-free, as are all HUROM products
Personalization - match the color of the H310A slow juicer to your interior
You don't have to compromise anymore. This model is available in a wide range of colors, so you can match it with your kitchen décor. Multi-screw. Universal, multifunctional screw shaft
All in one!
The use of one multifunctional auger shaft combined with a filter allows you to squeeze juice from soft or hard fruits and vegetables. The innovative design of H310A also makes it possible to prepare ice cream and sorbets. One juicer with many possibilities. Now, no matter what ingredients you're juicing, the H310A slow-release juicer is always ready to go, with no need to change filters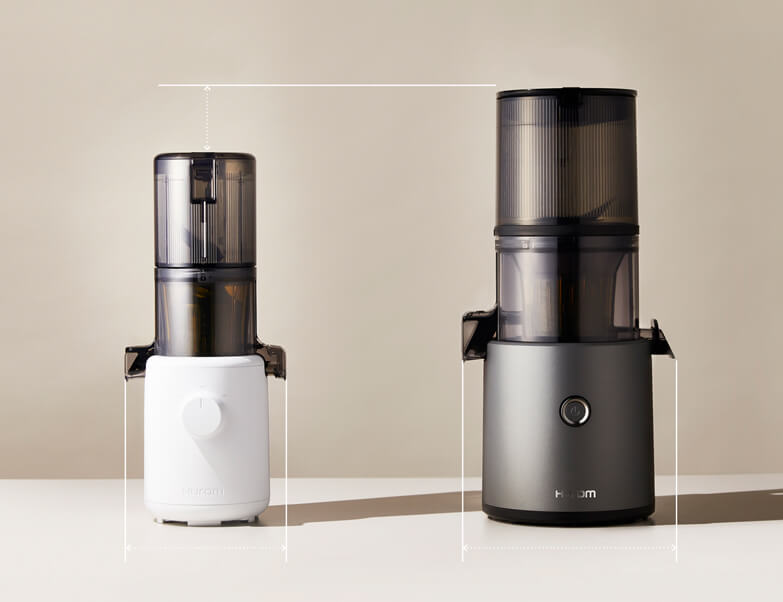 Slimmer size, more space in the kitchen
The slim H310A slow-speed juicer is compact, so it takes up really little space. By purchasing the H310A, you save valuable kitchen space. This HUROM juicer is ideal for small and large kitchens. Don't give up on fresh juices due to lack of space in your kitchen, choose the HUROM H310A. It's a juicer that was created with small kitchenettes and spacious kitchens in mind.It looks great in both small and large spaces. H310A and takes up the least amount of space of any appliance in its class
Easy to store and transport
The H310A slow juicer is easy to store and transport thanks to its compact size. Now you can make fresh fruit juice, smoothies and homemade ice cream at work, on vacation and anywhere you go.
The smart safety lid of the H310A.
The HUROM freewheeling juicer is equipped with a smart and easy-to-open lid. When lifted up, the lid automatically pauses operation, allowing you to freely and safely place new produce into the batch chamber. Environmentally Friendly The use of innovative solutions makes the juicer easier to use and reduces the amount of waste that ends up in the environment
Only essential ingredients to reduce waste
An environmentally friendly value or lifestyle that aims to prevent pollution and protect nature by reducing waste.
One juicer many possibilities
The HUROM H310A isn't just about tasty juices. With the H310A slow-speed juicer, you can make tasty juices from seasonal fruits and vegetables, as well as milks and nut butters, and even homemade ice cream
3 Key features of the H310A compared to high-end competitive models
The H310A multifunction is a top-of-the-line product.
1. The feed opening on the H310Amodel is wider than its competitors: 82 mm, while the H310A model: 114 mm
2. Competing models in the same class emit about 60 dB. during operation, while the H310A extruder emits only 45 dB., making it the leader in its class.
3. All-in-one filter (3-in-1) Competitor model: 3 types of filters, separate screw H310A: All-in-one (screw + all types of filters)
Protection against incorrect installation
Motor overload protection
Unique features of the engine
Brushless Induction Motor (BLDC)
Extremely quiet around 50 bB
Very low electricity consumption
10-year manufacturer's warranty on the engine
Screw shaft made of durable and safe ULTEM (BPA free)
Squeezing bowl made of Tritan (BPA Free)
Components in contact with juice free from bisphenols (BPA free)
Diameter of the feed hole
RPM of the sqeezing screw
Supply voltage / power supply
Pressing whole fruit and vegetables
Self feeding extrusion chamber
HUROM - only original products.
Buy only original products from the Polish distribution of Hurom.
Produced under the HUROM warranty.
Premium quality - made in South Korea.
Make sure you have the highest quality.
Register your Hurom squeezer to receive a 10 year parts warranty.
---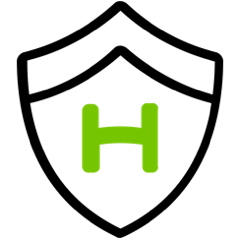 Our Slow juicers are covered by a 10-year manufacturer's warranty*.
*2 years manufacturer's warranty, plus an additional 8 years warranty if you register your product.
Opinie o Hurom H310A Charcoal Slow Juicer
4.00
Liczba wystawionych opinii: 1
Kliknij ocenę aby filtrować opinie
Opinia potwierdzona zakupem
Podsumowanie: Dobry produkt, ale nie bardzo dobry - naprawdę niewiele brakuje, aby byl bardzo dobry. Czy bym kupił drugi raz - tak, nie żałuję decyzji kupna! Dla dwóch osób jest idealny, jak masz więcej osób w rodzinie to pojemność komory zauważalnie zaczyna być mała. Na duży plus nadzwyczajna prostota w myciu - zajmuje to może niecałą minutę bez używania szczotki. Jak lubisz soki z lekką ilością miąższu, to jest to idealny produkt. Ogólne spostrzeżenia: Mielenie jest znacznie cichsze niż się spodziewałem, jedynie mielona marchewka brzmi troche głośno, bo chrupie, ale nie przeszkadza. Nakładane części, w których odbywa się mielenie - te elementy trochę się ruszają, ale to wynika ze faktu, że jest jedno ostrze tnące - całośc delkintnie 'tańczy' ale nie widać aby coś spadało czy się ześlizgiwało. Mielenie produktów: Komora do mielenia jest tak skonstruowana, że mniej więcej to co jest w komorze przekłada się na pół szklanki soku. Rózne produtky mają różną wydajność, więc trzeba odpowiednio dopchnąć komorę do spodziewanego efektu. Banan - zmielenie bananów powoduje, że można postawić łyżkę w kubku, w sumie nie produkuje odpadu, w zależności od preferencji może wymagać dolania trochę wody aby zwiększyć płynność. Gruszka - większość gruszki przechodzi do soku, więc mamy sok z grudkami. Jabłka - większość jabłek zostaje przetworzona na sok, odpad to pół suche wióry. Marchewka - wychodzi dość klarowny sok z marchwii, nie trzeba tak bardzo filtrować, większość produktu trafia do odpadu jako suche wióry. Ergonomia: Całość opracowana tak, że w sumie nie trzeba czytać instrukcji, bez siły i myślenia da się całośc złożyć/rozłożyć - a to duży plus! Ten model ma nowszy sposób mielenia wględem do poprzednich genracji - w środku komory ma dwa elementy nakładane na siebie, które mielą. Z początku byłem nastawiony dość sceptycznie na fakt, że zostały zastosowane plastkiowe części, ale po tygodniu muszę przyznać, że jest to dobre rozwiązanie - elastyczne elementy dociskają produkty do ścianek do zmielenia, dzięki czemu generowane odpady są specyficznej jakości. Rozkładanie / składanie urządzenia jest nadzwyczaj proste - mycie pod strumieniem wody zajmuje kilka sekund, w sumie nie trzeba używać szczoteczek. Zaoszczędza to masę czasu - ogólnie znacznie szybciej się myje niż czas trwania mielenia produktów. Estetyka: Wybrany model Charocal to realnie jasno-szary matowy - spodziewałem się ciemniejszego koloru z ładniejszym wykończeniem - z daleka wygląda OK, ale szału nie ma. Oczywiście to jest bardzo subiektywna ocena, spodziewałem się czegoś bardziej w kierunku czerni jak na zdjęciach. Siostra kupiła biały model i wygląda on znacznie lepiej niz wersja Charocal :) Dokumentacja: Copywriter płakał jak czytał wydrukowane dokumenty - masa literówek, szczególnie znikające spacje. Aż jestem zdziwiony, że jakość dokumentacji jest tak koszmarna! Inne: Jak kupujesz przez strone web to wybierz pojemnik do mieszania płynów/shaker - ksiązka z setką przepisów to strata czasu jak na polskie warunki ;) Estetyka i dokumentacja - przez te niedociągnięcia znika jedna gwiazdka w ocenie.