Learn about quince juice recipes!
2021-08-24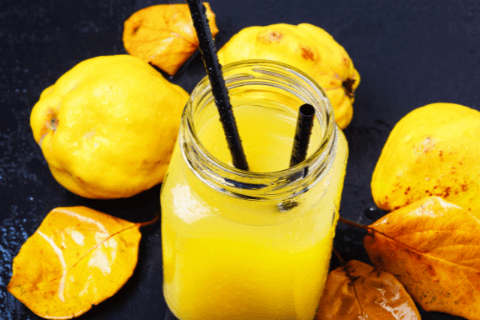 Quince is a very healthy, but quite unknown fruit. It's time to change that! Due to its very sour taste, not many people are able to eat it raw. However, this does not mean that you should give it up. A way to incorporate this healthy fruit into your menu is quince juice. We will tell you how to make quince juice the easy way!
What valuable ingredients does quince hide in itself?
Quince is a fruit abundant in vitamin C - 100 g covers ¼ of the daily requirement for this component! Raw quince is hard and very sour, but due to its high vitamin C content, quince-based products (such as juices) are very popular in the autumn and winter. It is worth remembering that vitamin C has a positive effect not only on the functioning of the immune system. It also exhibits strong antioxidant properties, thus protecting cells from the harmful effects of free radicals. In addition, the consumption of products rich in vitamin C helps to maintain the youthful appearance of the skin - it is necessary for the synthesis of collagen.
What other valuable ingredients can you find in quince? Noteworthy is the large amount of dietary fiber. This is good information if you are following a weight loss diet. Fiber makes the feeling of satiety stay with you for longer, thus reducing the risk of snacking. In addition, it has a positive effect on bowel function, carbohydrate metabolism and lipid profile. Consumption of products rich in dietary fiber reduces the risk of cardiovascular diseases and cancer (including colon cancer).
Anti-cancer properties, as well as the ability to lower cholesterol levels, are also demonstrated by tannins found in quince. These primarily include epicatechins and catechins.
In addition, quince is a source of valuable minerals:
potassium - important for the proper functioning of water-electrolyte balance (so it is worth including quince in the diet also during the summer heat);
calcium - necessary for the smooth functioning of the nervous system and muscles;
magnesium - an element that reduces sensitivity to stress.
Other components with health-promoting properties found in quince include iron, B vitamins and vitamin K.
What to keep in mind when choosing fruit for juice?
Before answering the question of how to make quince juice, it is necessary to clarify which fruits are best suited for its preparation. When shopping, pay attention first of all to the most ripe ones. They have a yellow color - it can be described as warm and sunny.
On the other hand, fruits with a low degree of ripeness will not be the best choice. They are easy to recognize because they are bright yellow or greenish. Why is this important? By using ripe fruits to prepare juice, you are more certain that the juice will not turn into vinegar.
Quince juice recipe
Now that you know why you should include quince in your menu and which fruits to choose for juice, it's time to learn about the quince juice recipe! You can prepare it in different ways - some of them are more time-consuming, while others will make the juice ready in a dozen minutes (for example, if you decide to use a slow juicer).
First, here's a recipe for quince juice, which doesn't involve having any equipment (but is more time-consuming). You will have to wait a few days for the juice. To prepare it, you need quince and sugar (for example, in the ratio of 1 kg of sugar per 2 kg of fruit). If you already have all the necessary ingredients, proceed to the next steps.
Thoroughly wash the fruits, and remove the seeds from them.
Cut the quinces into quarters and grate them on a coarse mesh grater.
Place the fruits in a jar, sprinkle with sugar and cover with gauze.
After a few days, pour off the resulting juice, and pour it into bottles (or jars).
If you want to enjoy the taste and health-promoting properties of quince for a longer period of time, you can make the juice pasteurized. Remember, however, that this leads to some loss of valuable ingredients - especially vitamin C.
You can also prepare quince juice using a slow-speed juicer (such as the Hurom H200). This is definitely a faster and simpler solution that will save you a lot of time! You will only need a few tens of minutes to make homemade quince juice. Besides, you'll be able to drink it right away - you don't have to wait a few days to pour it into bottles/jars.
How to make quince juice using the Hurom H200 juicer? You need to wash the fruit, cut it up and remove the seeds. You don't need to grate them, which is certainly a big convenience. You just need to put the fruits prepared this way into the juicer to squeeze the juice out of them. Then pour it into a pot and boil it (you can skip this step). Finally, just pour the juice into jars or bottles.
If you suffer from insulin resistance or diabetes, prepare the juice without added sugar. Quince has a very sour taste. Therefore, the juice squeezed from it, it is a good idea to slightly sweeten with sugar substitutes. For this purpose, you can use, for example, xylitol, or birch sugar.